Facilities with stringent cleanliness requirements, are a familiar field to Quality Cleaning, Not Quantity Cleaning Methods / Concept.


The Sanitizing System Innovated by Our Partner - Spencer which we have localized for Asia, is specially engineered for facilities that thorough hygienic cleanliness is crucial.


Conventional Cleaning Concepts and tools are notorious germ spreaders, even with expensive sterilization processes.


Cleaning Concepts like Double-Pail and Double Basin Cleaning procedures which separate wash and rinse disinfectant solutions still could not prevent cross contamination. Mops and sponges used for initial cleaning must be continually returned to solution containers, and the solution becomes increasingly dirty and contaminated. Much of the dirt is left behind, and it is picked up again during wipe down process. As a result, the second supply of detergent-disinfectant becomes contaminated and the entire cleaning procedure can fall significantly below its intended effectiveness.


With the sanitizing system, spent disinfectant never mingles with the fresh supply which is safely contained within the system. The first soaking application of solution loosens germs contained in dirt and grime, while a strong spray-rinse flushes the softened dirt away. The only residue which may be left behind is clean disinfectant, fresh from the system, which may be easily removed by a quick wiping with sterile cloth. Floors, where most of the spent solution will fall, may be cleaned in a similar manner, or, for the ultimate in sanitary effectiveness, may be vacuumed dry with a Central House Keeping Vacuum System with Wet Pick-Up Capability.
| | |
| --- | --- |
| | The information which we require to make an offer: |
| | |
| > | A Scale Layout of the place / development in both plan and evaluation view. |
| | |
| > | Estimate numbers of cleaners, or maximum usage at any one time. |
| | |
| > | The preferred location of the Central Sanitizing Unit. |
| | |
| > | General Services data. |
| | |
| > | Any specific preference of the Clients. |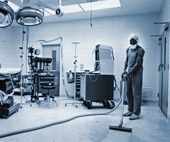 Typical Sanitizing Process In an Operation Room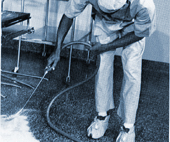 Typical Sanitizing Process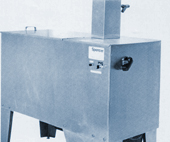 Central Sanitizing Unit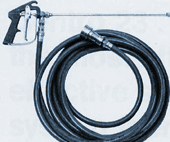 Sanitizing Cleaning Hose