Deaeration

There are many applications where it is desirable to reduce the amount of soluble gases dissolved in water, particularly Oxygen, for one or more of the following reasons:
| | |
| --- | --- |
| > | To Prevent or Reduce the rate of Corrosion of the materials of Construction in for example; Boilers, pipelines or process plants. It should be noted that corrosion rates are increased in oxygenated water by the presence of dissolved carbon dioxide. |
| | |
| > | To prevent or reduce the rate of growth of aerobic micro-organisms, for example micro-organisms can block the pores of oil bearing rock in an oil well impairing the water injection secondary recovery process. |
| | |
| > | To Prevent a build up of non-condensable gases which may impair the heat transfer rates within a process involving surface heat exchangers. |
Our Technology Partners and us are able to provide a complete range of services such as provision of the design and supplied of special internal components, allowing you to design and manufacture your customized vessel locally, saving money on shipment or provides a complete deaerator to meet any international known standard required by your application.

Condenser


Heat Exchange process are an essential requirement to most industrial activities and are of major economic importance to some industries such as the Power and Process Industries.

The Empirical Design Process is adopted by our technology partner; Hick Hargreaves since early 1900. The Manchester Institute of Science & Technology together with their process team has given a rigorous mathematical base that lead to a better understanding of the complex process occurring during the condensation procedure of multi-component vapors in the presence of non-condensable gas. Successful designs have been produced for tube side pressure amounting to 370 bar.


| | |
| --- | --- |
| | The material we offer includes: |
| | |
| > | Low Temperature Carbon Steel |
| | |
| > | Creep Resisting (CrMo) Carbon Steel |
| | |
| > | Austenitic Stainless Steels (304, 321, 316, 316L, 310) |
| | |
| > | Super Austenitics 254SMo, 1925HMo, etc |
| | |
| > | 22 Cr Duplex Stainless Steel |
| | |
| > | 25 Cr Super Duplex Stainless Steels |
| | |
| > | Nickel Alloys (Hastelloy C276, Alloy 625, 800, Monel) |
| | |
| > | Titanium (grades 1,2,3 & 12) |
| | |
| > | Cupro-Nickel (70/30, 90/10) |
| | |
| > | Aluminum Bronze |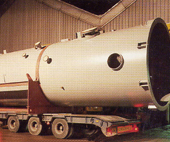 Deaerator Column
Titanium, Carbon Steel Turbine Condenser for Adgas, Das Island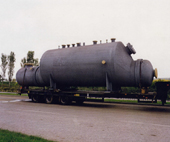 Titanium Clad Carbon Steel Reactor Condenser for Urumqi PTA Plant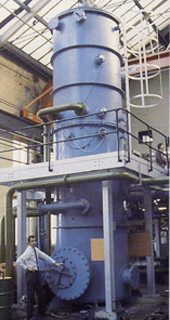 High Level Deaerator Column