The Multi Stage Centrifugal Blower / Exhauster is used in many Aeration & Agitation Application in Sewage Treatment & Activated – Sludge Plants.

Some of such typical application are conventional activation sludge; sequencing batch reactor, course bubble aeration, jet aeration and fine bubble aeration.

These blower optimized energy consumption, saving significant operating cost with improved design and control.
| | |
| --- | --- |
| > | More Efficient Impeller - The most critical blower component; the impeller, received major design emphasis. Blade loading studies has led to creation of unique, three dimensional impellers with radial and backswept blades that transfer energy to the airstreams with very high efficiency together with improved stability for blower turndown. |
| | |
| > | Superior Aerodynamic Design Concepts - By avoiding abrupt changes in velocity that create turbulence and waste energy, the blower achieved smoother, more energy efficient airflow from the blower inlet to outlet. Together with the uniquely configured impellers, return channels with airfoil-shaped vanes, redesigned inlet and outlet passages and modern vane less diffusers, the blower is able to deliver an impressive overall efficiency gain. |
| | |
| > | On-Demand-Performance - A good understanding of "Fan Law" in combination with an improved stability for blower turndown made it possible to a have a control system that could deliver the appropriate capacity and pressure at a great reduction in power consumption required for the application depending on seasonal condition of the plant. |
Further energy optimization or saving is achieved when our proprietary Cellulose Fiber Piping System is used. These pipes have internal which is smoother then UPVC and Durability as good as UPVC against waste water or even sea water corrosion. Such a piping system reduce the overall static losses in the piping network. Hence, the blower could operate at a lower pressure then what it could be done with conventional piping system for Aeration Duties.


On top of this, these pipes could be supplied in sizes up to Dia 700mm and it is economically less expensive then UPVC pipe for the bigger sizes.



| | |
| --- | --- |
| | The information which we require to make an offer; |
| | |
| > | The type of application |
| | |
| > | The volume of Air Required to be deliver and the required pressure |
| | |
| > | The operating ambient condition such as Relative Humidity, Temperature, etc |
| | |
| > | The General data of available facilities such as electrical condition |
| | |
| > | Client preference for integration or any specific condition |
A Buried Air Transfer Cellulose Fiber Pipe
Typical Aeration Blower for a Waste Water Treatment Plant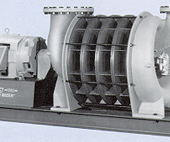 A 6000 Series Aeration Blower