A Centralized Process Vacuum System is usually one of the Basic utilities of any major Research & Development Facilities. It optimizes resources and greatly reduce overall maintenance needs for the provision of Vacuum Utilities crucial to the success of any conducted Research.

The Central Plant usually consists of Two or More pumps that are designed to operate as how the system demands and required it, a receiver used to provide a vacuum reservoir and to seperate liquids from the vacuum air stream, the inter-connecting pipings around the pump, receiver and alarm.

The pumps selected should be Oil Free especially in Biomedical Research Facilities. Only an Oil Free Vacuum Pump can totally get rid of any potential risk of process contamination. Hence, the reliability and consistance repetition of the research's result.

The most common Oil Free Central Vacuum System is a Combination of Liquid Ring Vacuum Pump Packages.


| | |
| --- | --- |
| | We are able to offer: |
| | |
| > | A Complete Design of the System promising End Point performance. |
| | |
| > | A Complete Design which could comply to "Guidelines for Planning & Design of Biochemical Research Laboratory Facilities - By The American Institude of Architects; Center for Advanced Technology Facilities Design". |
| | |
| > | Customized Central vacuum Pump Packages to suit Defined Operating Performance by the Client. |
| | |
| > | Vacuum Accessories and Vacuum Rated Filter to meet the requirement of such Facility. |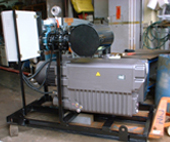 A Rotary Vane or Sliding Vane Vacuum Package able to deliver 1000 Actual Cmh of Nominal Flow.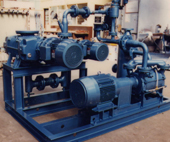 A Central Oil Free Pump Package with Booster and Atmospheric Ejector allowing it to achieve up to 1 Torr of Absolute Vacuum at Pump Inlet.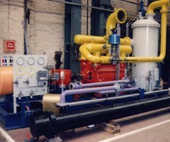 A Total circulation Central Liquid Ring Vacuum Package capable of delivery up to 2500 ACFM of Flow.