Drilling circuit boards is a precise operation. Accumulated dirt, dust and stray chips in the production area affect your productivity. Circuit boards must stay absolutely clean during and after drilling. Contamination can cause a smeared hole, a flaw which makes the units unpalatable and therefore rendered redundant.

Therefore, the lesser time that your employees spend in replacing broken drill bits caused by chips that were left hazardously in the production area or cleaning up their production machine, the more time they can spend productively. This can be easily solved with a High Speed Suction Removal Vacuum System Installed.


So what is a High Speed Suction Removal Vacuum System?

The Central Plant consist of a Vacuum Producer, Cyclone Separator, a Vacuum Separator all mounted on at Common Location. The entire system is connected via a piping system to each production machine.

Vacuum pickup lines connected to this central system are then connected to the respective drilling heads which can be turning up to speed of 80,000rpm & more or drilling up to 510 or more finished holes per minute.

All chips and dust created by the drilling are instantaneously vacuumed away via the piping network to the Central Plant Area. Precious metals which are meant to be collected from the appropriate machine are incorporated with built in separator along the vacuum line to hijack these metal from the vacuum stream.
| | |
| --- | --- |
| | The information which we require to make an offer: |
| | |
| > | The Type of Dust or Process which will be hook up to the system. |
| | |
| > | The Vacuum Requirement of Individual Production Machines. |
| | |
| > | The Layout of the Plant and the Perferred Location of the Central Plant. |
| | |
| > | Any specific Preference of the client. |
Typical Picture of a Printed Circuit Board Drilling Operation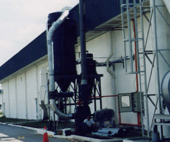 Central Vacuum Plant Installed for Samina Corporation Sdn Bhd in Malaysia for the chips and precious metal recovery process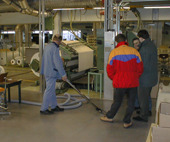 The installed Central Vacuum Plant could be used for as a house Keeping Vacuum System to upkeep the Production Facility too.