Puzer Hide Away Refuse Container / Compactor System Or Sir-Lift System as many call it, is the Modern Way solution to solve one of our conventional refuse handling problem – Unsightly Refuse Storage.

It is a good approach for development which has a tight space constraint and would not like to display their collected refuse or its foul smell in public.

The system is designed to be suitable for all Standard Refuse Roll-On / Roll-Off Compactor Container or simply Container Only of standard volume from 8, 12, 18 and 24 cubic meter.

The installation of it is simple, since the entire system comes in a Epoxy tar Coated External Frame that is suitable for direct buried into the ground without any further preparation.



| | |
| --- | --- |
| | The information which we require to make an offer: |
| | |
| > | The size of the intended refuse container |
| | |
| > | It is a Container / Compactor Type of Refuse Container or a simple Container only |
| | |
| | |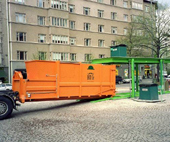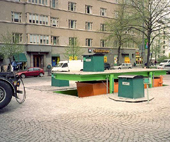 Picture showing the sequence of removal of a Fill Refuse Container from the Sir Lift System