The Puzer Chiller Compact Container helps to solve one of the biggest problem associated with Refuse Disposal Services. It allows a more efficient collection or pick up of refuse from the small waste generator, without the concern of hygiene issue or foul smell.

It allows the refuse to be stored for days at any particular development by preventing the waste from decomposing causing a hygiene or pest issue.

The Compactor Container is designed to be self contained and can be transported by any standard refuse truck with a lifting arm.

It can also be used to replace any containers of similar refuse holding volume and work in conjunction with our Puzer Sir Lift System.



| | |
| --- | --- |
| | The information which we require to make an offer: |
| | |
| > | The Volume of the Refuse it has to hold |
| | |
| > | General Service data such as Electricity available |
| | |
| > | Any other specific preference of the clients |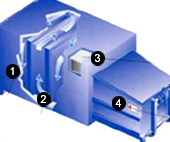 | | |
| --- | --- |
| 1 | The outer skull is thoroughly insulated |
| | |
| 2 | Cold air circulates in the channels between the container and the outer shell and evenly cools the whole container |
| | |
| 3 | The thermostatically controlled cooling unit is fully automated and its power is determined by the volume of the container. The cooling unit is produced by the leading manufacturers of the field and they are reliable and long lasting |
| | |
| 4 | The Cooler's Combi hydraulic unit can be drawn out and it is situated directly above or under the cylinder space, depending on the ram solution. The maintenance is easy to perform and the hydraulics tubes are as short as possible. An ingenious valve solution enables minimum compacting forces and extra proximity switches have become necessary. |